Interview with JAWA's Board Chair Lisa Stirgus
Author: Junior Achievement of Washington
Community Involvement
Published: Tuesday, 28 Mar 2023
---
Sharing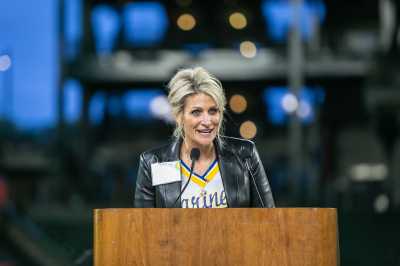 Image caption: Lisa Stirgus speaks at the 2022 Dare to Dream Dinner & Auction. Photo by Bob Sheldon.
Meet Lisa Stirgus, JAWA's Board Chair We sat down with Lisa to discuss her passion for financial literacy and why JAWA's mission is particularly important to her as we celebrate Women's History Month.
What attracted you to serving on JAWA's Board of Directors?
It was a dream on my bucket list! I had been involved with JA as a volunteer throughout my banking career because of financial institutions' commitment to financial education. I still remember the first time I volunteered in a classroom and taught a group of 2nd graders how to start a hot dog stand business 15 years ago!
I have served on several nonprofit boards and loved their missions, but none of them were focused on empowering youth with the skills they need to be a successful adult. In my journey, I didn't learn how to be smart when buying a car or understand how to manage credit, and these things held me back for years. I know firsthand how incredibly life-changing it can be when you come across someone in your path who cares enough to teach you how to reach your potential, especially when you don't quite know what that potential can be. To me, that's what JA is. It is a community of volunteers and a platform of education that can help change the trajectory of so many students' lives. I wish I had learned this growing up - it would have helped me save so many years of struggle.
Serving on the JAWA board has been one of the most special parts of my life, and I am grateful to volunteer with an organization that is truly positioned to change the future of so many young people in my home state.
What is one thing you want everyone to know about JAWA?
JAWA is not just your typical "financial literacy" skills education. It's an immersive learning experience that enables students to take away many lasting impressions for their future. I hear this from students and teachers all the time! I hear how JA helped them understand what their parents are going through while trying to support the family and pay the bills. I hear how critical it is to learn about a career path from a volunteer who would never even know is possible. I hear how grateful a teacher is to provide their students with a learning experience that gives them real-life skills.
What are your hopes for JAWA?
My dream is that JA programs will be offered in every classroom in Washington state, so all kids can learn how money works, what skills they need to build a career, and how to become an entrepreneur! Survey after survey shows that these skills are not taught in school and that students and families wish they were. JA curriculum provides life-changing education to every student it touches, so why not have JA help future generations who will lead our state forward?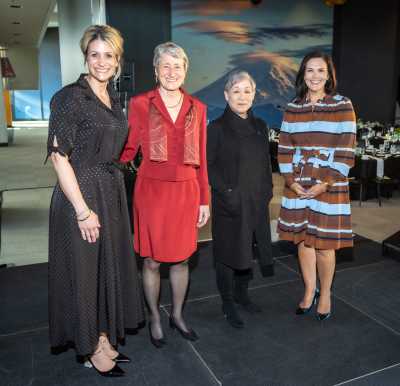 Image caption: JAWA Board Chair Lisa Stirgus, 2022 JA Business Hall of Fame Laureate Sally Jewell, 2022 JA Business Hall of Fame Laureate Betti Fujikado, JAWA President & CEO Natalie Vega O'Neil. Photo by Bob Sheldon.
Why is Women's History Month particularly important to you as JAWA Board Chair?
As a woman who built a career in financial services, I have been ingrained with certain expectations - you don't cry on the job, you temper your passion because you will be seen as too emotional. You talk with numbers, or your point will not be respected or validated. I believe this is all nonsense! Women are smart business leaders who achieve successful results because they are willing to care about details, make sure that people matter, and understand that context is important. When I think about Women's History Month, it makes me smile knowing that JA programs directly contribute to creating the next generation of female leaders and empower girls to reach economic success."
We use cookies to provide you a personalized experience. How we do this is by analyzing user behavior on our site and sharing data with our advertising and analytics partners. You consent to our cookie policy if you continue to use this website.